The Catholic school aims to provide all children with a total learning environment in which students experience what discipleship of Jesus means.
St Mary's students engage in Religious Education in our classrooms in partnership with our parents and parish community. Students gain a knowledge and understanding of Jesus Christ the person and the traditions of the Catholic faith.
Every teacher has responsibility for the sense of community, the symbols, prayer and liturgy, the positive relationships, the religious dimension of all learning and action for justice that contribute to the religious education formation of students.
We believe that this knowledge and understanding must be engaged with contemporary social issues and the life experience of our students. Therefore we aim to make Religious Education alive and child centered by employing the best teaching methodologies, incorporating creative teaching strategies, including multiple intelligences and the use of Information Technology.
Our Diocesan Syllabus aims to teach the following five main outcomes:
God, Revelation and Human Destiny
Jesus, Human and Divine
Church and Discipleship
Prayer and Sacraments
Sacred Scripture
Through the Religious Education Program we aim to:
Make Religious Education an integral part of each school day.
Teach specific Religious Education lessons using learning experiences and teaching strategies to bring the scriptures alive for the students.
Create a sacred space as a focus for prayer in the classroom that reflects current classroom themes in RE.
Engage students actively with our 'Mini Vinnies' program which is aimed at helping others in our local and wider communities.
Prayer
The school community welcomes each school day by saying the school prayer together. Parents are encouraged to pray regularly with their children. Both formal and informal prayers are said at school, such as 'The Examen'.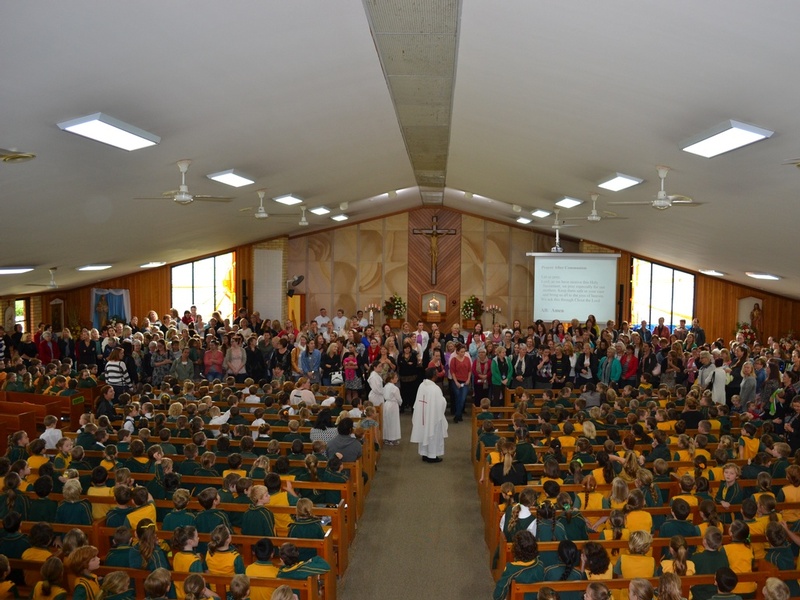 Sacramental Program
All sacramental programs are parish based. Children are prepared for the reception of the Sacraments by their parents, with the assistance of the Parish Sacramental Team. The Sacramental Team includes the Parish Priest and Sacramental Coordinator. A support program is taught at the school in Year 2, Year 3, Year 4 and older grades when required. The parish number for all sacramental enquires is (02) 4396 4455.
Confirmation – Year 2
Reconciliation – Year 3
First Eucharist – Year 4
Parish and Whole School Masses
The school community comes together to celebrate Mass regularly. Parents and members of the parish are most welcome to participate also. Dates for these Masses are announced in the school's weekly Parent Newsletter. Sunday Mass times are published in the Parish Newsletter.
School Prayer