In 1973 St Mary's Catholic School opened. Father Paul Fitzgerald who was the Parish Priest from 1971 until 1995 saw a need to provide a Catholic Education for the children of the surrounding area. Children previously were enrolled at the local state schools and on Saturdays attended Catechism classes at St Cecilia's Convent Wyong.
Twenty eight students were enrolled in Kinder, Year 1 and Year 2 when the doors were opened in 1973.The inaugural Principal was Mrs Loretta Clifton. Student numbers were very low in the early days and the future of the school was in doubt. However through the hard work of many the school flourished.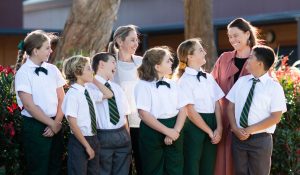 The original buildings have been refurbished and are still being used today. In 1997 the current Administration Building was constructed. Our Resource and Technology Centre was opened in 2000.
A major building program took place in 2009-2010 that included seven new classrooms and the transformation of the old two storey primary block. Today it provides modern learning spaces and the all weather under croft where the school community can gather to celebrate assemblies or enjoy a quiet area to play.
Today there are 21 classes with over 530 students enrolled. We have a vibrant school community that honours the past, enjoys the present and looks to the future with hope.